Happier Classrooms
Easily engage students and keep parents in the loop.
Used in 1 in 2 US schools | Always free for teachers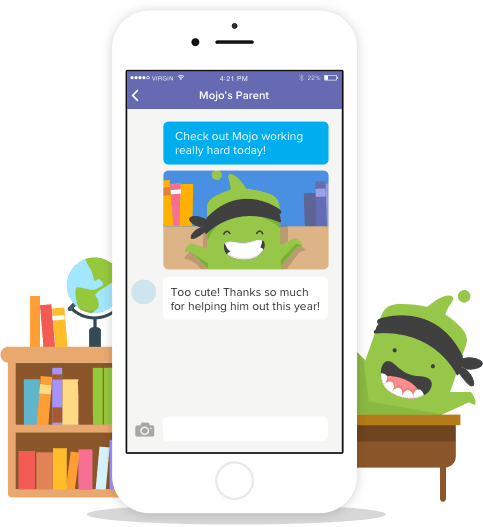 ClassDojo is the easiest way for teachers to encourage students and share their best moments with parents.
Watch video
LearnMore
Happier students, happier classrooms!
Easily encourage students
Participation, teamwork, perseverance, or something else? Customize ClassDojo to work for your classroom
See a timeline of students' progress
See and share a beautiful timeline of all the wonderful things your students do - with no extra effort
Students love it - and so will you!
Students love how positive classrooms are with ClassDojo - and it saves teachers valuable class time, too!
Easily engage parents
Instant messages
Reach parents quickly and privately with direct messages
Announcements
Have an important update? Send a blast to every parent in your class
Photos
Worth a thousand words! Parents love seeing these moments from class :)
Read receipts
Worry no more! Know when parents have read your messages
What teachers, parents and students are saying
Any classroom, any device. 100% free.
Works on iOS, Android, and on any computer
Built with privacy by design. Read how we keep the community safe!
Perfect for interactive whiteboards and projectors, too
Ready to join millions of other teachers?